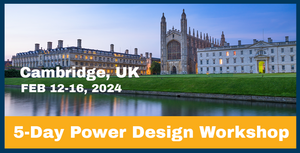 NOTE: This is a LIVE in-person event taught by Ridley Engineering:
The Moller Institute
Churchill College 
Storey's Way
Cambridge, UK CB3 0DE
+44 (0)1223 465500

Dates: FEB 12-16, 2024
Register for our 5-day power supply design workshop, now in its 25th year. Taught by Dr. Ray Ridley, this is a hands-on laboratory workshop on power supply design available to all working electrical engineers. 
Experience, learn and build. Only 24 attendees are accepted in this 5-day workshop to maximize the experience. Learn how to design and build working power supplies. Gain experience in topologies, magnetics and control. Then analyze and troubleshoot design problems at each stage of the process.
What you receive. The fee includes all lab materials, manual/workbook, lunch and a 3-year license to RidleyWorks software.
What does it cost?: Registration is $3500 per person.  
How to get there: Cambridge is accessible from London Stansted, London Gatwick and London Heathrow airports. Cambridge has a direct rail connection from Stansted Airport. Regular coach services run from all major cities and airports to Cambridge. Driving directions are provided in the confirmation letter.
Where to stay: Lodging at the Moller Institute is available at £150/night. Details are provided in the confirmation letter after registration.
Cancellation Policy: Registration can be transferred to another coworker, placed back on the REI website for sale at purchaser's request, or offered to the waiting list by our team if the event is sold out. If filled by a coworker, the registration details simply change name. If one of these other options fills the vacant spot, the full registration fee is refunded to the original payee. Registration cannot be deferred to a later workshop.